Estonia burning up their natural heritage¶
Tuesday, September 10, 2019.
During the last years I noticed increased occurrence of places like this in the region around my home village: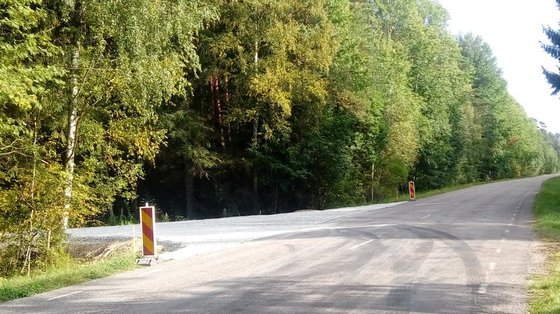 Government invests much money for upgrading small forest roads that lead to nowhere. Actually they lead into the woods. They are built in order to sustain those who cut trees and carry them away in order to sell them. I guess that these projects are a part of what we call "improving transportation infrastructure".
And these projects for improving transportation infrastructure are successful. Last year I started to notice that almost every time I drive on the road between Silla and Jädivere, I meet at least one timber conveyor doing their work.
My fear resulting from observations like these was confirmed once more this morning when I read Siim Kuresoo's article Puidust elektrit? Me ju ei neela sellist silmamoondust alla! (Eesti Päevaleht, 2019-09-10).
Yes, Estonian government seems to believe that it is a good idea to cut down their forests and burn the wood for producing electricity. Hey, politicians and officials! Stop listening to powerful corporations as your primary advisers! We pay you for granting sustainable peace and wealth to all of us. The primary goal of these corporations is not your primary goal!
My quotes from that article:
Neil päevil meenutab valitsus mulle väga [seda] kassi, kes eirab puidupõletamise keskkonnamõjusid justkui silmist seotult ja näib lootvat, et see küüniline eiramine pimestab ka kõrvalaseisjad.

(…) elab aga jätkuvalt oma elu arusaam, et kui puid hoopis raiuda ning hakkpuiduks või puidugraanuliteks teha ja elektrijaamades ära põletada, siis selle tegevuse tulemus on kliimakasu – süsiniku heite vältimine. See arusaam on väär (…)

Plaanitav Narva puidupõletus on halvimast halvim näide kliimamuutuste vastase võitluse sildi all tehtavast kliimakahjust. Plaanitud masspõletamist lubav seadus ei sea kasutatavale puidule mingeid piiranguid, katelde efektiivsus on väga madal ja puidupõletus annab viimase õlekõrre ka kliimavaenulikule põlevkivile (millega segatult puitu põletada kavatsetakse).

(…) üha kasvav energiapuidu tarve on ka üha kasvava raiemahu peamine põhjus.